Not that much to the first test drive left. Actually, only two things: to get the [correct] shock absorbers, and pedal box with hydraulic pipes. As long as I want to get as much must-have weight as possible before buying coilovers, I've just started pedal box.
Actually, it's quite math-intensive task. I'll skip it all here (there's already a bunch of info about this topic on the net), but will go to the my special case(s). I'm doing such stuff first time – just like pretty much everything else – so possibly something will go wrong.. but I have hope I'll be able to fix it 🙂
Ok. As a basis I've took wilwood pedal box sketch, this one: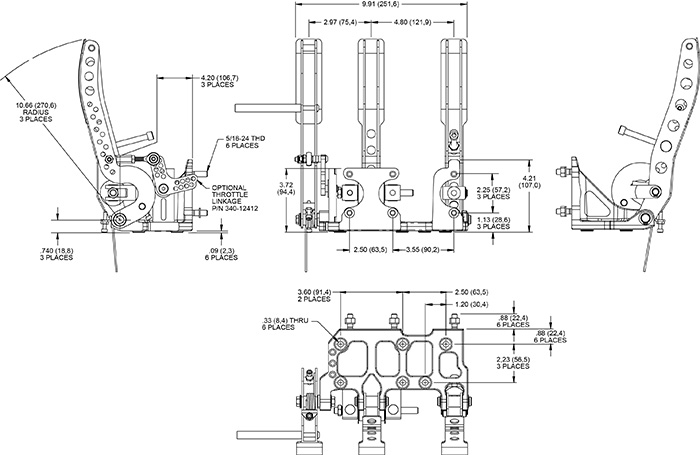 So I got some proportions, some measurements, overall look. And just started. Pictures talks themselves 🙂
[imgmeta]Pedal sides[/imgmeta]
[imgmeta]Clutch pedal with master cylinder attached[/imgmeta]
[imgmeta]Pedals[/imgmeta]
[imgmeta]Pedal back side[/imgmeta]
[imgmeta]Gas pedal[/imgmeta]
[imgmeta]Clutch[/imgmeta]
Clutch master cylinder is original from volvo. Decided to use this one so I won't have a headache choosing right diameter and volume. Sure it was not as simple as that – this cylinder has 55 degrees angled fixing plane, so had to make an adapter for that. So just made a good start. But the fun part is still ahead – it's dual brake master cylinder setup.